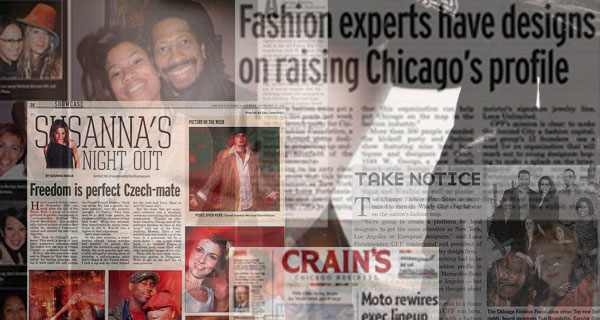 May, 2003 (Chicago, IL) Chicago Fashion Foundation (CFF) www.chicagofashionfoundation.com is an organization that combines dynamic and successful people from every aspect of the fashion industry in Chicago. CFF is dedicated to developing a powerful group that propels the fashion industry in Chicago to new and positive heights. In return, CFF will enrich Chicago and develop incredible programs to educate people who can make a fashionable difference.
CFF is committed to enhancing and expanding the fashion industry in Chicago and beyond. The foundation is compelled to partner with the finest companies, sponsor important charitable causes, host fashion related events and create educational and mentoring programs throughout the city.
CFF created www.chicagofashionfoundation.com, as an easy and accessible way to learn about CFF, its programs, upcoming events and how to become a member. The website is also for students who want to learn and be a part of the fashion industry.
CFF is the brainchild of Lana Fertelmeister, (President of Lana Unlimited Co. a company dedicated to designing quality fashions and accessories for women) who, put this dynamic group together with Melissa Muro, (a Merchandise and Sales Manager for one of the most successful mass production manufacturers in the Midwest, Kannan Fashions). Together, they graduated from Columbia College Chicago. After many years in the fashion industry both decided it was time to develop an organization that not only enhances their community in the fashion industry, but also gives back to the community.
CFF is comprised of a diverse, talented and incredibly dynamic board and active members. CFF's board consists of Chicago's most successful people who are involved in the fashion industry from design, manufacturing, marketing to styling, business development and e-commerce; all are crucial to CFF's existence and success.
For more information on The Chicago Fashion Foundation (CFF) and how to become a member, please visit us at www.chicagofashionfoundation.com.