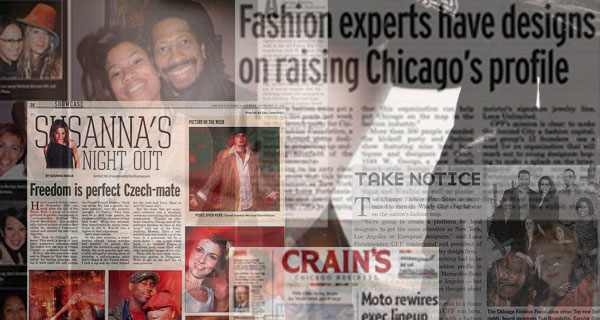 June, 2003 (Chicago, IL) Chicago Fashion Foundation (CFF), is kicking off the summer with a weekend of fashionable events to benefit the Gus Foundation in conjunction with Children's Memorial Hospital. The first event FABRIC, will take place Thursday, June 5th from 9:30 -2 a.m., at the newly opened hot spot Clout nightclub and lounge at 1248 George, in Lakeview. Finishing off the weekend, CFF will sponsor Shop for a cure™ (www.shop4acure.org) an event featuring over 50 vendors, boutiques and designers from Chicago and beyond, on Sunday, June 8th from 12-4 p.m. at the Westin River North Hotel in Chicago.
FABRIC will include a fashion show, featuring some of the designers and boutiques that will be at the Sunday event, including: Orlando Espinoza, Scarlet Designs, Lana Jewelry, Smack boutique, G boutique and Nicchia boutique, just to name a few. The runway presentation will feature models from Aria Model Management. Roque Salon and Laura Mercier Cosmetics will provide hair and make-up.
A $10 donation will be collected at the door and 100% of the proceeds will go directly to The Gus Foundation (www.gusfoundation.org), an organization dedicated to providing hope for children with brain tumors by advancing Children's Memorial Medical Center in Chicago.
Chicago Fashion Foundation (CFF) www.chicagofashionfoundation.com is an organization that combines dynamic and successful people from every aspect of the fashion industry in Chicago. CFF is dedicated to developing a powerful group that propels the fashion industry in Chicago to new and positive heights. In return, the Chicago Fashion Foundation will enrich this city, develop incredible programs and educate people who can make a difference.
For more information on CFF and to rsvp to FABRIC, please visit us at www.chicagofashionfoundation.com.