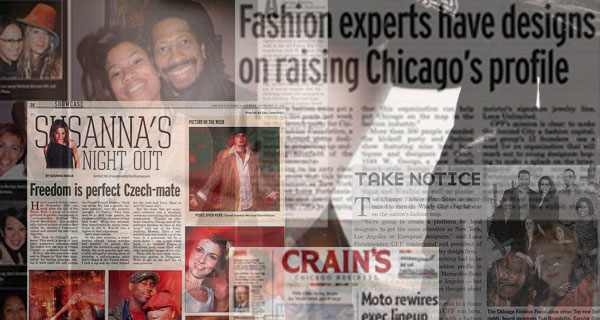 Chicago Sun Time, Saturday June 14, 2003
SUSANNA'S NIGHT OUT
BY SUSANNA HOMAN
Chicago's fashion scene got a kick in the pants last week at the launch party for Chicago Fashion Foundation, a newly formed group dedicated to promoting up-and-coming members of the local design community.
"CFF is going to be very clear on making a point that this town is just as important as New York and L.A.," says Lana Fertelmeister, 28, founder and president of the foundation. "We're hoping that this organization can help put Chicago on the map in the fashion industry."
More than 300 people attended the kickoff party and fashion show featuring nine local boutiques and designers at Clout, 1248 W. George, a new South Beach-style lounge in Lincoln Park. Aria models were draped in clothes from iCandy, Smack boutique and Nicchia as well as pieces by designer Orlando Espinoza, purses by Susan Fitch and Fertel-meister's signature jewelry line, Lana Unlimited.
CFF's mission is clear: to make the Second City a fashion capital. The group's 12 founders see a need for an organization that will reach out to young designers hoping to make a splash on the international fashion scene. Says Fertelmeister, "Above all, we want to teach people that they can be successful without moving to the East or West coasts."
They're off to a stylish start.
 
 
 

PICTURE OF THE WEEK

SHE'S TOO SEXY: A model takes her turn on the catwalk.
| | | | | |
| --- | --- | --- | --- | --- |
| DESIGN BY DESIGN: Graphic designer Michael Blackwell with design student Tenisha Anderson. |   | LE FUN AND LE FABULOUS: Le Call, right, with Brad Sereneki. |   | BUCKLE UP: Premier Valet's Anthony Mango and Patrick Swaggerty. |
Photos: Eric Sawitoski
For more information on The Chicago Fashion Foundation (CFF) and how to become a member, please visit us at www.chicagofashionfoundation.com.