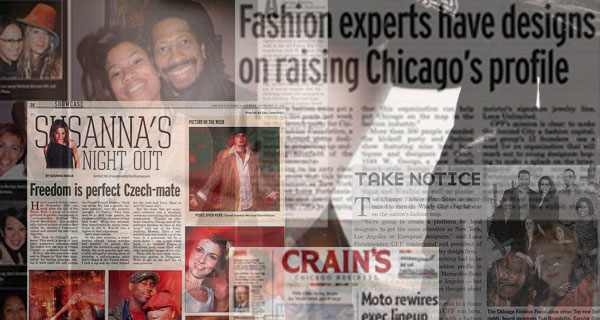 Press Contact:

Devin McKenna
 
CHICAGO FASHION FOUNDATION PRESENTS:
"THE STATE OF FASHION IN CHICAGO"
Chicago, August 5, 2003 - The Chicago Fashion Foundation (CFF) will present a business luncheon and networking event entitled "The State of Fashion in Chicago" on August 18th, 2003 at the East Bank Club (500 N. Kingsbury, Chicago). Michelle Alegria, co-host of ABC TV's program "190 North" will host the event. Scheduled to speak on the topics of retail, media and public relations are; Krista Meyer, owner of the eponymous boutique Krista K - recently voted "Best Boutique" by Chicago Magazine; Barbara Glass, Fashion editor for "Fashion 5" on NBC 5 News Chicago and image and wardrobe consultant; and SunTimes columnist and public relations specialist Susanna Homan.
Each speaker will explore their area of expertise within the context of the growing need for a cohesive Chicago fashion community. In addition, attendees will have the opportunity to open up discussion with the panel on related topics during this unique two-hour event.
A delicious "Harvest Buffet "luncheon will be served. The cost of this event is $30 for members and $40 for non-members. For more information and to reserve your seat, please visit www.chicagofashionfoundation.com.
About Chicago Fashion Foundation:
CFF was created to develop and activate a dynamic and powerful fashion-driven group that will propel the fashion industry in Chicago to new and positive levels. In return, the Chicago Fashion Foundation will enrich this city, develop incredible programs and educate people who can make a difference.