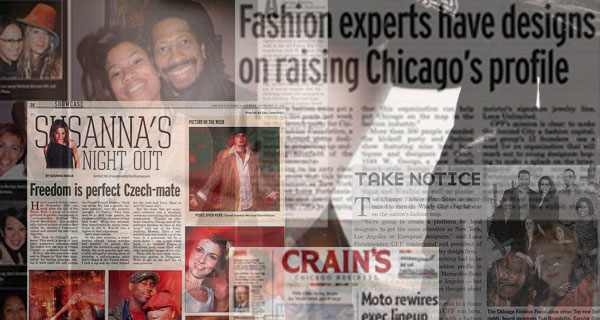 CHICAGO FASHION FOUNDATION HOSTS SUCCESSFUL BUSINESS LUNCHEON
"THE STATE OF FASHION IN CHICAGO"
Chicago, August 22, 2003 - The Chicago Fashion Foundation (CFF) hosted their first fashion business-networking event entitled "The State of Fashion in Chicago" on August 18th, 2003 at the East Bank Club. Michelle Alegria, co-host of ABC TV's program "190 North" hosted the sold-out luncheon. Krista Kaur Meyers, owner of the eponymous Krista K boutique- recently voted "Best Boutique" by Chicago Magazine; Barbara Glass, Fashion editor for "Fashion 5" on NBC 5 News Chicago, and Sun Times columnist and public relations specialist, Susanna Homan, spoke on the topics of retail, media and public relations respectively.
Each of the four prestigious speakers explored their unique topics of expertise within the context of the growing need for a cohesive Chicago fashion community. After the presentation portion of the event, 70+ attendees from all segments of the fashion business, from boutique owners to apparel designers had the opportunity openly discuss issues facing Chicagoans working in the fashion community during the unique two-hour event.
Each of the speaker's dynamic, informative presentations revealed their excitement about the state of fashion in Chicago. The genuine need for more fashion dialogue in Chicago was revealed in the open and lively conversation that continued among the diverse crowd after the presentations concluded.
About Chicago Fashion Foundation:
CFF was created to develop and activate a dynamic and powerful fashion-driven group that will propel the fashion industry in Chicago to new and positive levels. In return, the Chicago Fashion Foundation will enrich this city, develop incredible programs and educate people who can make a difference.
#####