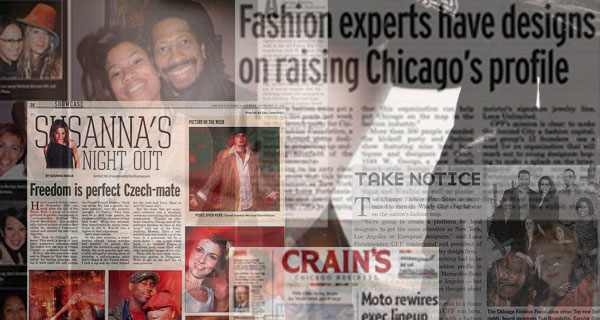 Crain's Chicago Business
Author: Lisa Bertagnoli
Excerpts from article published October 13, 2003
Chicago Fashion Launch, started by Dublin, Ireland-born entrepreneur Evelyn Buckley-Browne, is joined by Chicago Fashion Foundation, a collection of 52 designers and marketers brought together by jewelry designer Lana Fertelmeister.
Ms. Fertelmeister, whose necklaces are worn by celebrities such as Kate Hudson and Cameron Diaz, urged her fashion friends to action when she heard sponsors of New York Fashion Week would hold a show in Los Angeles, but not Chicago.
"We're a cleaner, hotter, smaller New York, but Atlanta and Dallas are more hotbeds of fashion than Chicago," Ms. Fertelmeister says, noting that the bible of the rag trade, Women's Wear Daily, has bureaus in those cities, but not here.
The two groups have their work cut out for them, according to Chicago fashion-industry experts.
By nurturing designers who live and work here, Chicago Fashion Foundation and Chicago Fashion Launch hope to grab at least some of the attention now lavished on the coasts.
Chicago Fashion Foundation's biggest goal is to launch a Chicago Fashion Week. New York, Los Angeles, Paris, Milan and London all have such events, in which established and budding designers show their new lines to apparel buyers and fashion writers.
"We've got to get the media to come from New York and L.A. and see our designers here," says Devin McKenna, a Fashion Foundation founder and board member. "We're not going to bring in (sportswear designer) Tommy Hilfiger — that's not our goal."
Still, putting Chicago on par with New York and Los Angeles is a distant dream.
"We're not on the coast. Fashion's home is New York," Ms. McNally says. "We know this is a 15-to-20-year commitment to get this done."
For more information on The Chicago Fashion Foundation (CFF) and how to become a member, please visit us at www.chicagofashionfoundation.com.