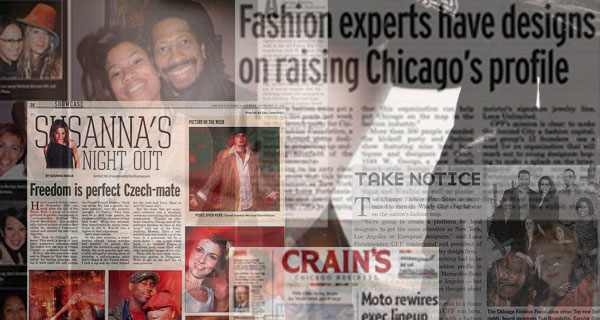 Press Contact:

Devin McKenna
 
CHICAGO FASHION FOUNDATION PRESENTS GOLDEN -
INSPIRED BY THE WARM SUNFLOWER FIELDS
OF THE CZECH REPUBLIC
Chicago, IL October 20, 2003 - Chicago Fashion Foundation (CFF) welcomes Chicago's tastemakers and new CFF members into fields of endless possibilities. CFF hosts an evening full of warm vibes, rich sounds and the world's first golden beer, Pilsner. To ward off the autumn chill there will be sizzling sounds from DJ D. Sanchez, who will spin the latest European dance music from Prague and beyond. Membership information, committee sign up and a chance for new members to mingle and network will make this an event not to miss by Chicago's most fashionable folks.
This unique event takes place on Tuesday, October 21, 2003 from 7:00 PM - 9:30 PM at 459 N. Wolcott, at Grand Ave., in the old firehouse building. Admission is $5 for CFF members and $10 for non-members, with complimentary liquor and beer provided by Pilsner Urqeull. Limited parking is also available.
Please RSVP at www.chicagofashionfoundation.com.
About Chicago Fashion Foundation:
CFF was created to develop dynamic and powerful fashion-driven events that will propel the fashion industry in Chicago to new heights. The Chicago Fashion Foundation will enrich this city, develop incredible informative programs and educate people who can make a difference.