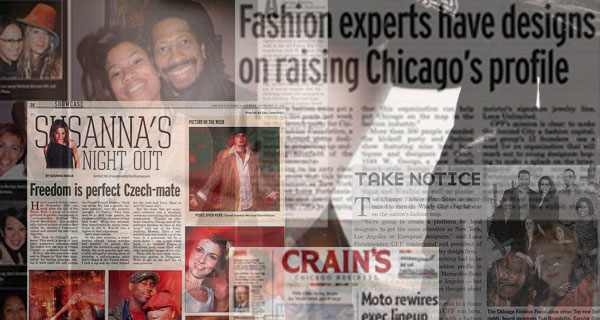 Press Contact:


Devin McKenna
 
CHICAGO FASHION FOUNDATION PRESENTS GET EUROWN STYLE


Chicago, IL November 14, 2003 - Chicago Fashion Foundation (CFF), in conjunction with Saving Soles Foundation, Pilsner Urquell, ChicagoBeauty.com, and Lincoln Park Athletic Club will present Get EurOwn Style and Give EurOwn Soles" on Tuesday, December 2, 2003 from 8 -11PM at Fulton Mat Co., 2156 W. Fulton at Leavitt.
The jet-set evening promises to combine Old World elegance and Continental luxury with homegrown Chicago talent. A European streetwear inspired fashion show will feature music by DJ Jes of Fresca Recordings (Space, Ibiza). Ford Models will show spring looks from local designers including G Boutique, Scarlet Designs, Coco Plumb Jewelry, B-Vain Couture II, Speakeasy, Taylor Cheng, K. Amato Designs, Alise's Shoes, and Lana Unlimited.
The Czech Republic's own original Pilsner beer will be poured by the city's hottest caterer, Wally Vicente (Crobar) in addition to wine and cocktails. Hor d'oeuvres and European pastries will also be served. Admission is $10, $5 w/gently worn (or new) shoe donation. Ten percent of door proceeds will also be donated to Saving Soles. Complimentary liquor and food provided by Pilsner Urqeull.
About Chicago Fashion Foundation:
CFF was created to cultivate dynamic and powerful fashion-driven events that will propel the fashion industry in Chicago to new heights. The Chicago Fashion Foundation will enrich this city, develop incredible informative programs and educate people who can make a difference.
About Saving Soles Foundation:
The Saving Soles Foundation, established by Dwain Johnson in 1998, has donated over 100,000 pairs of shoes to children, women, and men in need! This nonprofit began serving the metropolitan area of Chicago and has now stretched its program globally, hosting shoe drives all over the world. http://www.giftsinkind.org
#####