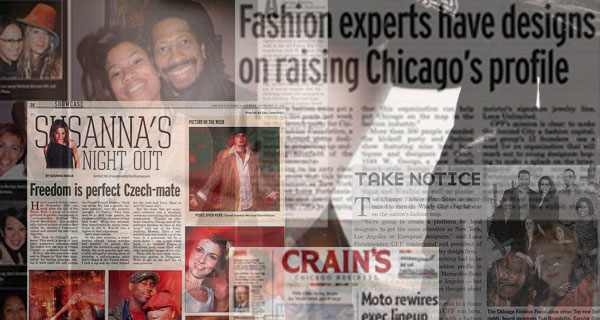 Got style? Then you're a sho-in for Get Eurown Fashion Foundation
By Susanna Homan
At Get Eurown Style, a Chicago Fashion Foundation fund-raiser Tuesday night, event producers worked hard to achieve an edgy, industrial party vibe.
Models sporting '80s funk cybergypsy looks from 10 local designers strutted a makeshift catwalk at the old Fulton Mat Co. warehouse, 2156 W. Fulton. Stark walls were adorned with works by local artist Jeff Wellman. And, perhaps most effective, they never turned on the heat.
Given that the Chicago Fashion Foundation was founded by uber-hip, up-and-coming local designers, it was no surprise that the shivering crowd still managed to look fabulous. They just kept their fur-collared jackets closed tight and their funky hats pulled down past their ears.
Event producer Dana Anderson took her inspiration from a trip to Prague sponsored by Pilsner Urquell, a Czech beer. To add a visual element, Anderson said she used pictures from the trip to create a video mix displayed on a wall. The point of the party was "to let people 'build eurown party, build eurown fun,'" she says.
About 100 people did just that,. and many took advantage of a half-price entry fee in exchange for donating a pair of gently used shoes for the Saving Soles Foundation. After collecting piles of used boots, pumps and stilettos, Anderson donated "a full cargo van full of shoes" to the organization. That's truly fashion forward.
For more information on The Chicago Fashion Foundation (CFF) and how to become a member, please visit us at www.chicagofashionfoundation.com.