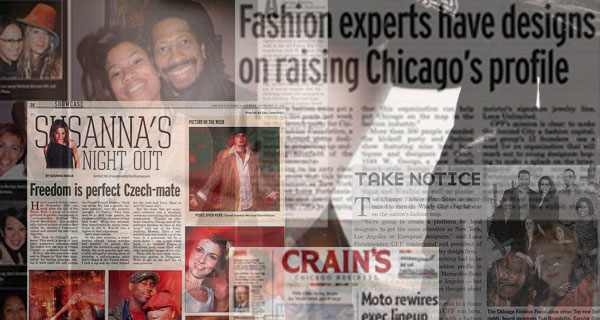 Press Contact:

Devin McKenna
 

FOOD FOR THOUGHT. CHICAGO FASHION FOUNDATION HOSTS
"THINK BIG" NETWORKING SERIES
--DIVERSE PANELISTS EMPOWER FASHION INDUSTRY PROFESSIONALS AND STUDENTS THROUGH POWER LUNCHEON AND BREAKFAST EVENTS--
(Chicago, IL) April 19, 2004- Chicago Fashion Foundation (CFF) will present a networking luncheon, "Think Big I", Wednesday, April 28, 2004 from 12-2:30PM at the Hard Rock Hotel Chicago, 230 S. Michigan Avenue.
A surprise celebrity host will introduce panelists:
Amy Tara Koch - host of the NBC-TV's Morning News weekly segment "Trend Talk" and weekly columnist for the Chicago Tribune "RedEye Stylefile", will speak about Fall 2004 trends.
Sheri Styles - With fifteen years of merchandising experience, she combines her sense of style with a strong financial background as the Specialty Jewelry Buyer for Marshall Field's. Ms. Styles will speak about creating a unique shopping experience for customers while driving profitable sales for your company.
Jennifer Van Kirk - Membership Director for the Chicago Convention and Tourism Board will speak on the topic of seasonal tourism and its positive/negative affects on area boutiques and small retailers in Chicago.
On Tuesday, May 4, 2004 CFF board members will then present "Think Big II" from 8-10am at Columbia College Chicago. This event is an open forum student breakfast held at the urban mecca's Fashion Management Department, 1006 S. Michigan Avenue, 4th Floor. This student event extends an open invitation to all fashion-design/fashion-business students from area colleges. Topics will include fashion careers and the importance of post-college networking. This second point may be of special interest to CCC students - as six of the eight current CFF board members are themselves CCC grads.
An audience question and answer segment as well as networking will follow the panel discussions at both events.
The luncheon ticket price is $45 for CFF members and $55 for non-members. Ticket prices include a three-course lunch complete with beverages and dessert. The student event ticket price of $5 includes breakfast. For more information or to purchase tickets online please visit, www.chicagofashionfoundation.com.
About Chicago Fashion Foundation - CFF was created to cultivate dynamic and powerful fashion-driven events that continue to propel the fashion industry in Chicago to new heights. The Chicago Fashion Foundation enriches the city, develops incredible informative programs and educates people who can make a difference.