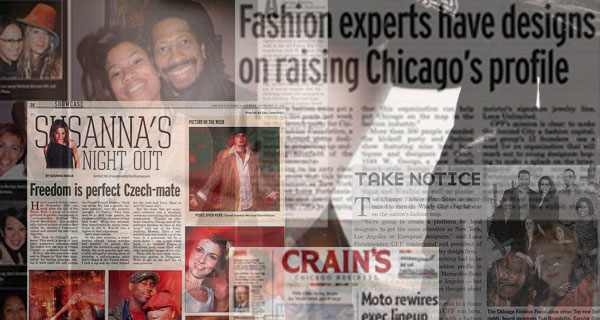 Chicago Fashion Foundation (CFF) Presents: Suit Yourself
A Charity Luncheon, Fashion Event and Launch Party
You are invited to help CFF kick off a month-long clothing drive to benefit the Bottomless Closet Organization.

When: Tuesday, November 30, 2004 from 12noon - 2pm

Where: McCormick and Schmick's, 41 E. Chestnut St. Chicago, Il 60611

Cost: $30 CFF members, $40 non-members

RSVP: Online at www.chicagofashionfoundation.com
For more information or to reserve tickets by phone, please call 312.467.6371

The luncheon includes:
A delicious three-course lunch with the entrée of your choice. Informal modeling highlighting the concept of "investment dressing".

Presentations by:
The Executive Director/ CEO of Bottomless Closet
A former Bottomless Closet recipient will share her success story
Nancy Pender of Fox News Chicago will discuss the perception of fashion in the business world.

CFF's Mission
To develop and activate a dynamic and powerful fashion-driven group that will propel the fashion industry in Chicago to new and positive levels. In return, the Chicago Fashion Foundation will enrich this city, develop incredible programs and educate people who can make a difference.

Bottomless Closet's Mission
Bottomless Closet provides professional clothing, job readiness and post-employment training and coaching services to women on assistance and working-poor women, enabling them to add value to the organizations that hire them while empowering them to craft a new vision for their lives.

For more information on the event visit www.chicagofashionfoundation.com.