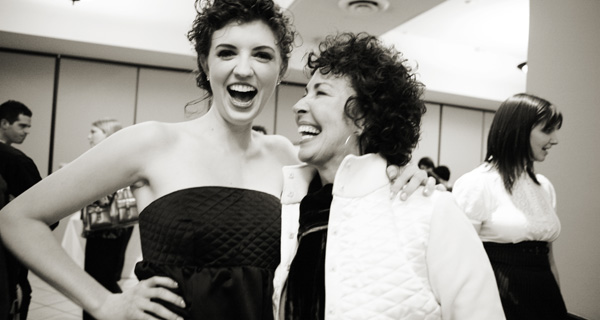 CFF Sponsored Events
For a limited time only get $25 off
VIP Tickets now $75 (reg $100) - promo code 

Fashion
GOLD Tickets now $50 (reg $75) - promo code 

Fashion2
Chicago Fashion Foundation Presents
A City Within A City
8th Annual Design Competition & Fashion Show

Thursday, April 2, 2015

Chicago Cultural Center
78 E. Washington Street, Chicago, IL 60602
6:30 PM
VIP & Press Reception
Silent Auction & Raffle

7:30 PM
General Admission

8:00 PM
Fashion Presentation & Awards
Join Chicago Fashion Foundation at our 8th Annual Design Competition & Showcase as we celebrate all the exciting talent in Chicago's fashion design community! You won't want to miss our fabulous runway collective of emerging, alumni and established Chicago fashion designers.
Fourteen finalists—our Chicago emerging designers created outfits inspired by the historic Merchandise Mart. The winner will receive a $5,000 fashion design scholarship, with smaller scholarships being awarded to second and third place.

We are very proud of our winner from last year, 22 year old Alexander Knox, who became a contestant on season 13 of "Project Runway". Knox made it through ten challenges before being eliminated.

Interspersed throughout the competition, we will feature collections from our outstanding alumni designers and several of Chicago's exceptional fashion designers. You won't want to miss these gorgeous designs gliding down the runway!

Before the fashion presentation mingle with the who's-who of the Chicago fashion industry while enjoying premium cocktails and hors d'oeuvres, silent auction and raffle and photo opportunities by our step and repeat.

To keep the cycle of excellence and innovation alive, all ticket sales go towards student scholarships and special fashion programming.
Hosted by
Tisha Lewis - Reporter, FOX 32 News Chicago
Future of Chicago Fashion Design Competitors
Alyson Montemayor, Harper College
Anna Ramirez, Columbia College Chicago
Courtney Batio, Harper College
Delvin McCray, Columbia College Chicago
Faina Stefadu, School of the Art Institute of Chicago
Ginte Sabaliauskaite, Harper College
Hannah Linder, Harper College
Kelcie McCurdy, Columbia College Chicago
Lisa Nahhas, Columbia College Chicago
Myra Chung, Harper College
Nicole Dieshnbourg, Columbia College Chicago
Nicole Ramos, Harper College
Stephany Munoz, Harper College
Yesenia Villarreal, Columbia College Chicago
Alumni Designers
Elena Bobysheva - Elena Bobysheva
Columbia College Chicago
www.elenabobysheva.com
LaTonya Williams - Elizabeth Smith Fashions
International Academy of Design & Technology
www.esfashions.com
Robert Noia - Robert Noia
Columbia College Chicago
Top Chicago Fashion Designers
Mark Roscoe Design
www.markroscoedesign.com
Daniel George (menswear)
www.danielgeorgecustomsuits.com

Gidi
www.gidionline.com

Gabrielle Zwick Designs
www.gabriellezwick.com
EXECUTIVE PRODUCER
Chicago Fashion Foundation
SHOW PRODUCER/DIRECTOR & EVENT CONSULTANT
Rose Mandel, Mandel Productions
SOUND & LIGHTING
Soundz AVL
SOUNDTRACK
DJ Laura Bee
HAIR TEAM
Jennifer Simonis, Artistic Director
Custom Hair Lounge + Spa
MAKEUP TEAM
Brenda Arelano, Artistic Director
SPECIAL BUSINESS AWARD PRESENTED BY
Pilar Saiki
Fashion Stylist & Faculty at Fashion Department at Harper College
JUDGES
Andrea Schwartz-VP of Media Relations of Macy's (Marshall Field's) (North & Midwest Regions, Diego Rocha-Designer, Diala Joseph-Fashion Blogger forwww.rosesandheels.com, Frances Renk-Fashionista and more TBA.
PR / MEDIA INQUIRIES
Kristin Tuerk
kristintuerk@gmail.com - 312-622-7327
Get your tickets early, this event always sells out!

Tickets can be purchased on eventbrite.
Use PROMO code Fashion to receive your VIP discount
Use PROMO code Fashion2 to receive your GOLD discount
Visit our website at www.chicagofashionfoundation.org

Fashion Focus Chicago 2011 is right around the corner, taking place October 17-23, 2011, and there are some exciting events for you to volunteer at to get more involved in Chicago fashion!
VOLUNTEER OPPORTUNITIES:
Thursday, October 20, 2011 - Vert Couture Eco-Fashion Show & Benefit presented by Conscious Living TV Millennium Park, Chase Promenade North
Volunteer Coordinator: Sarah Markgrad, sarah.markgraf@greenmarkpr.com This e-mail address is being protected from spambots. You need JavaScript enabled to view it
Friday, October 21, 2011 -The Art of Fashion 2011 presented by StyleChicago.com Millennium Park, Chase Promenade North
Volunteer Contact: Lynna Smith, talent@stylechicago.com This e-mail address is being protected from spambots. You need JavaScript enabled to view it
Saturday, October 22, 2011 - FashionChicago presented by StyleChicago.com Millennium Park, Chase Promenade North
Volunteer Contact: Lynna Smith, talent@stylechicago.com This e-mail address is being protected from spambots. You need JavaScript enabled to view it
 Sunday, October 23, 2011 - Education Day hosted by the Mayor's Fashion Council Chicago Cultural Center
Volunteer Contact: Kiran Advani, kiran.advani@explorechicago.org
Other Events