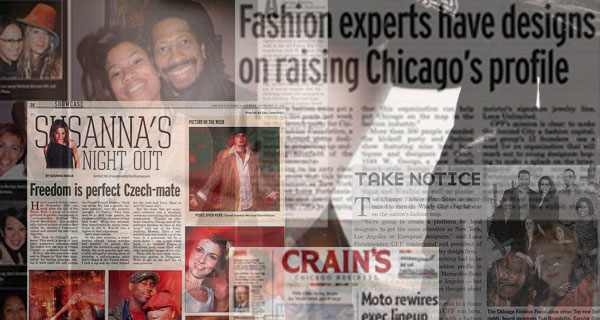 Adorning Student Designers
We wanted to give a long overdue shout out to a fledging organization that offers and annual scholarship competition, educational programs and overall support students of fashion design in Chicago.
Back in March, The Chicago Fashion Foundation hosted its first annual scholarship award competition.  The event showcased the work of four finalists who were selected from the bevy of applicants.  The designers had live models who postured and posed for the attendees as well as the panel of fashion and media professionals. Judges for the evening included Susanna Homan, Executive Editor of Michigan Avenue Magazine and renowned local designer, Orlando Espinoza.
The applicants were adorable and all slightly nervous as they meticulously tugged and straightened garments on their models during the pre-ceremony. While each of the four finalists had fantastic skills and utilized the "City of Chicago" theme for the competition with great panache finding inspiration in the El trains, the weather and even the skyline, winner, Nora Del Busto stood out with a classic black dress with satin quilting and an accompanying cream colored fitted knee-length jacket with matching satin quilting across the bust.  The petite, former lawyer turned fashion designer received the scholarship check for $2,500.
The mission of the Chicago Fashion Foundation (CFF), is to provide academic scholarships to Chicago-area college students majoring in fashion related studies and coordinate educational programs for the Chicago fashion community.
Judging from the accolades received after this year's scholarship competition, the CFF is off to a fantastic start, and we're so excited that so many others are on-board with supporting up-and-coming fashion designers here in Chicago.