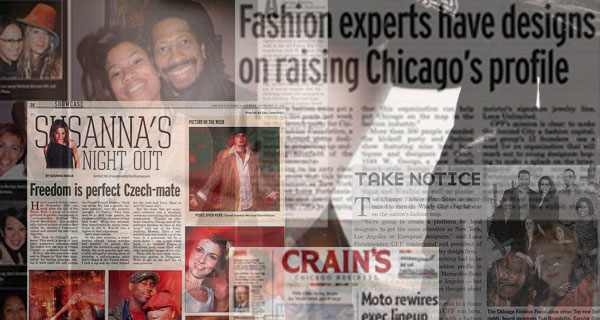 New York may be wrapping up its biannual Fashion Week today, but Chicago's festival is ready to kick off Wednesday.
Fashion Focus Chicago 2006, which runs through Oct. 1, is designed to put the Windy City on the national -- and even international -- style map by featuring 12 days of runway shows, neighborhood shopping events and industry seminars. It's all about supporting the city's fashion and retail communities, and highlighting the apparel and accessory "artists" who call Chicago home.
And because Mayor Daley has thrown his support behind the ambitious second annual Fashion Focus, groups ranging from city agencies to edgy indie organizations are on board.
No matter your fashion stripe, this fest offers something for you. Highlights among the 30-plus happenings include:
Runway Shows Four will be staged at Millennium Park's Harris Theater Rooftop Terrace, 205 E. Randolph. They are Gen Art's "Fresh Faces in Fashion 2006" (8:30 p.m. Sept. 25; tickets, $50-$250), Chicago Sister Cities International Program's "World Fashion Chicago" (7:30 p.m. Sept. 26; show admission free), "Designers of Chicago" Fashion Show, presented by Macy's (7:30 p.m. Sept. 27; free admission) and the Apparel Industry Board Inc.'s "Chicago Is ... Red Hot!" (8 p.m. Sept. 28; tickets, $30-$250). And don't forget Macy's "Glamorama 2006 -- Glamosphere" takes place at the Chicago Theatre at 7:30 p.m. Sept. 29, with tickets ranging from $50-$1,000.
If you like your fashion more organic, check out student- designed style in "Street Beat," the Chicago Loop Alliance's free fashion show staged along State Street between Washington and Monroe on Sept. 27 at 11:30 a.m. For two hours, models wearing designs from fashion-design students at four Chicago colleges will strut down sidewalk runways.
Neighborhood Shopping Events Check out the style scene at boutiques in shopping-friendly 'hoods you know well -- or discover new ones. Among the events: Style for Life (6-9 p.m. Thursday) in Lincoln Park's North Halsted and West Armitage boutique corridor; Behind the Seams (6-8 p.m. Sept. 22), trunk-show shopping with cocktails along Wicker Park's eclectic West Division Street, and Fashion Al Fresco, Fall Fashion on Damen (10 a.m. to 6 p.m. Sept. 24), where folks on Bucktown's North Damen Avenue stretch between North and Armitage can get outdoor makeovers and manicures, watch fashion caricatures being drawn and check out fall looks at the street's trendy boutiques.
Industry Seminars Students and would-be designers can attend educational seminars and workshops that teach everything from how to finance a business to how to present lines to retailers. Check out ones from city delegate agency Apparel Industry Board Inc., the Chicagoland Entrepreneurial Center and the Chicago Fashion Foundation.
Extravagant Extras If price is no object, treat yourself to the Ultimate Fashion Immersion Weekend from Sept. 29-Oct. 1. This decadent package, which starts at $930, features a two-night stay at the always-chic W Chicago City Center, 172 W. Adams; main-floor seating at Macy's "Glamorama" and tickets to its private post- party. On Saturday, consult with leading local stylist Stacy Wallace- Albert, who will escort you to some of the city's specialty boutiques and help update your fall look. And on Sunday, do brunch at the Wolfgang Puck Cafe at the soon-to-reopen Chicago History Museum and enjoy a private behind-the-scenes tour of the museum's "Dior: The New Look" exhibition. To book, call (877) 244-2246 or visit www.877chicago.com.
For a complete listing of events or for more information, visit www.fashionfocuschicago.com.
Copyright CHICAGO SUN-TIMES 2006
Provided by ProQuest Information and Learning Company. All rights Reserved.